One of the most eco-friendly new eco-buildings in the North West is Phase 2 of the Stockport Exchange development by Muse Developments. A Royal Institution of Chartered Surveyors (RICS) Regional Award-winner, it is in the running for a National Award in November and was described by the judges as "…the first Grade A, BREEAM Excellent, office to be speculatively developed in Stockport for many years".
At Hannan Associates we have worked with Muse Developments and many other developers to design the most environmentally-friendly building services.
So Why Do We Need Eco Buildings?
When scientists began warning of the effects of climate change at the end of last century, it confirmed what many people had long suspected: that we humans were damaging our own environment by our profligate use of resources. Something had to change, and the science of ecology, which many had seen as a crank activity, moved centre stage.
Over time, the science focused on carbon emissions and eco-building became the BIG ISSUE in the construction industry. The development of Building Information Modelling (BIM) has enabled designers to plan and design-in characteristics that make buildings more environmentally-friendly than ever before.
At Hannan Associates that commitment eco-friendly construction goes back many decades. One of the standard ways of incorporating eco-friendly characteristics into a building is at the building services level. After all, for most commercial applications the building services are the biggest user of energy, and the area where efficiencies can be applied.
BREEAM-How We Measure How Green Our Buildings Are
The most common way of assessing the eco-friendliness of a building is the BREEAM rating. A BREEAM assessment can be applied to all buildings, commercial and domestic, as well as infrastructure projects and even whole communities. The system was devised and is operated by the UK's Building Research Establishment (BRE), but is used worldwide.
There are a number of levels of BREEAM rating, depending on how environmentally-friendly the building is. For new builds they are: Pass, Good, Very Good, Excellent and Outstanding.
Hannan Associates offers a full range of BREEAM services, from initial design to installation of services: find out more HERE
Projects have included the complete design of the mechanical, electrical and plumbing (MEP) services for the new, state-of-the-art Co-operative headquarters in Manchester. Building services contributed over half (51%) of the score leading to a BREEAM 'Outstanding' rating, leading to it winning the BREEAM Award for Best Office Building, as well as the RICS Project of the Year Award.

How Do We Make Buildings More Environmentally Friendly?
As mentioned before, constructing environmentally-friendly buildings stems from the very beginning of the design process. It's not just about using energy efficient heating and cooling, although that is an important element of any green construction: the build process itself has a carbon footprint of its own, and so does the production of the materials we use.
More recently, attention has turned to the 'whole-life' carbon footprint of a building. That is to say, how much CO2 does the building cause to be emitted over its operational life. That can include the carbon footprint of materials brought in to maintain it in the future.
The design of a building can be environmentally-friendly from the outset. Heat can be harvested from the outside by the use of heat absorbent materials, which can also reflect heat back in summer to help cooling. That process is known as passive heating and cooling.
Convection currents can be created to cool a building naturally, as well. That principal was a feature of building design in North Africa and the Middle East many centuries ago. There's nothing new about eco-friendly buildings!
Having said that, the main emphasis when making buildings green is to install and use eco-friendly building services.
As we've seen from the example of the Co-operative headquarters, building services can account for the highest proportion of a building's green credentials. Modern methods of heating and cooling are considerably more energy-efficient than traditional methods. The most visible is, of course, solar. In 2005 the Co-operative Banking Group's iconic CIS Tower, also in Manchester, had a whole wall covered in photovoltaic panels, making it the largest vertical solar array in the world.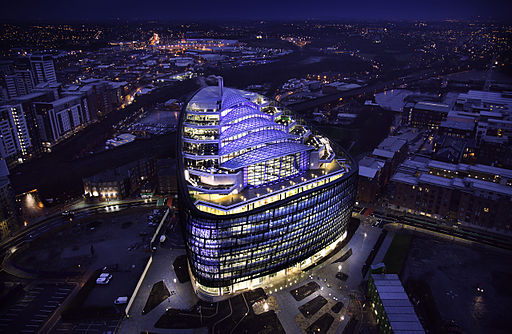 Less spectacular, but highly eco-friendly, are ground-source and air-source heat pumps for providing heating, hot water and cooling. Ground-source, as the name suggests, uses pipes in the ground to extract heat, while air-source pumps resemble traditional air-conditioning units and are fitted to the side of a building. Both require an outside power source, but are considerably more energy-efficient than traditional sources. A great deal of information can be found on the websites of the trade associations of their installers: the Ground Source Heat Pump Association and the Heat Pumps Association
Finally, making a building greener also involves looking at the effect it has on its environment. Water run-off can be controlled by installing green roofs and a sustainable urban drainage system (SUDS). Plants and trees can be introduced to bring the environment into the building system. That also makes for a more attractive working environment and leads to a healthier workforce.
So What Does All This Eco-Friendly Stuff Cost?
Everything has a cost implication, and making buildings more eco-friendly is no exception. The good news is that many of the measures that can be introduced pay for themselves over time, with reduced energy consumption. Grants are also available to 'retrofit' eco-friendly measures, such as the Non-domestic Renewable Heat Incentive (RHI)
At the end of the day, though, the greatest cost will be paid if we DON'T make buildings more environmentally friendly. That could cost the Earth!
To find out how Hannan Associates can help make your building more eco-friendly, contact us here.