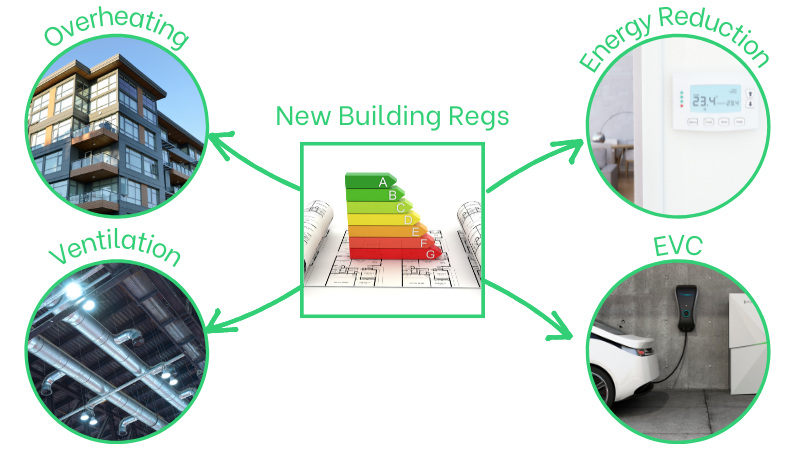 Last month saw the introduction of the highly anticipated Building Regulation changes, introduced by the Department for Levelling Up, Homes and Communities. The changes included  updates to Part L and Part F and the introduction of new Approved Documents Part O and Part S.
Why have these changes been introduced?
These changes are aimed at improving the energy efficiency of housing in the UK to help us move towards the 2050 Net Zero Carbon targets. The UK Built Environment (buildings and infrastructure) is reported to be responsible for 25% of total UK greenhouse gas emissions  and so has a big part to play in helping to meet this target.
The new and updated regulations are interim changes on the road to the implementation of the Future Homes Standards planned for 2025, which is targeting a minimum 75% CO2 reduction.
What effect will these changes have?
Updated documents replace previous versions:
Volume 1: Dwellings
Volume 2: Buildings other than Dwellings.
Both now covering new and existing buildings. Meeting primary energy targets is now equally, if not more, important than carbon emission reduction targets.
A new metric; 'Primary Energy Rate' has been introduced. CO2 emissions from new build dwellings will achieve a minimum anticipated 30% reduction when compared to the previous regulations.
Buildings other than dwellings are anticipated to reduce emissions by a minimum of 27%.
Updated documents replace previous versions: Volume 1: Dwellings and Volume 2: Buildings other than Dwellings. The new Approved Documents contain updated minimum ventilation provision by floor area (now including circulation and lobby areas) and introduction of new reporting and commissioning requirements.
Marginal uplift in whole house dwelling ventilation rates, Recirculating systems must meet certain new criteria and air quality sensors are required in a range of spaces.
Introduction of minimum fresh air rate per m², and requirement to ventilate common parts such as corridors and lobbies in commercial buildings.
New Approved Document O provides statutory guidance on overheating mitigation for new dwellings and residential buildings.
The primary objectives are to limit unwanted solar gains in summer and provide adequate means of removing excess heat from the indoor environment.
The majority of developments will be subject to the dynamic thermal modelling approach using CIBSE's TM59 for regulatory compliance. Blinds should no longer be relied upon for compliance.
New approved Document S which provides statutory guidance on infrastructure for electrical vehicle charging.
For residential schemes, generally 100% active provision should be made for car parking spaces served by EVC's. For non-residential schemes, a minimum  of 10% active provision with a further 20% passive provision for future installation.
What about projects which have started?
The new Building Regulations will not apply where initial notice or full planning application has been submitted to a local authority in respect of that building before 15 June 2022, providing start on site also commences before 15 June 2023.
If either of the above criteria are not met, compliance with the new regulations will apply.
What future changes are still to come?
Further technical consultations on the Future Home and Future Building Standards are proposed for Spring 2023, with introduction in 2025.
The Future Homes and Future Buildings Standards are a set of standards that will complement the Building Regulations to ensure that new homes built from 2025 will produce 75-80% less carbon emissions than homes delivered under current regulations.
When implemented; existing dwellings may also be impacted, however homeowners will likely only be affected if they are making thermal upgrades or building an extension.
How can we help you?
If you would like to arrange for us to come and speak to you and your team in more detail about how the building regs changes may effect your projects please drop us an email.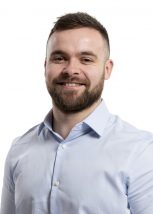 Thomas Cutt
Mechanical Design Engineer