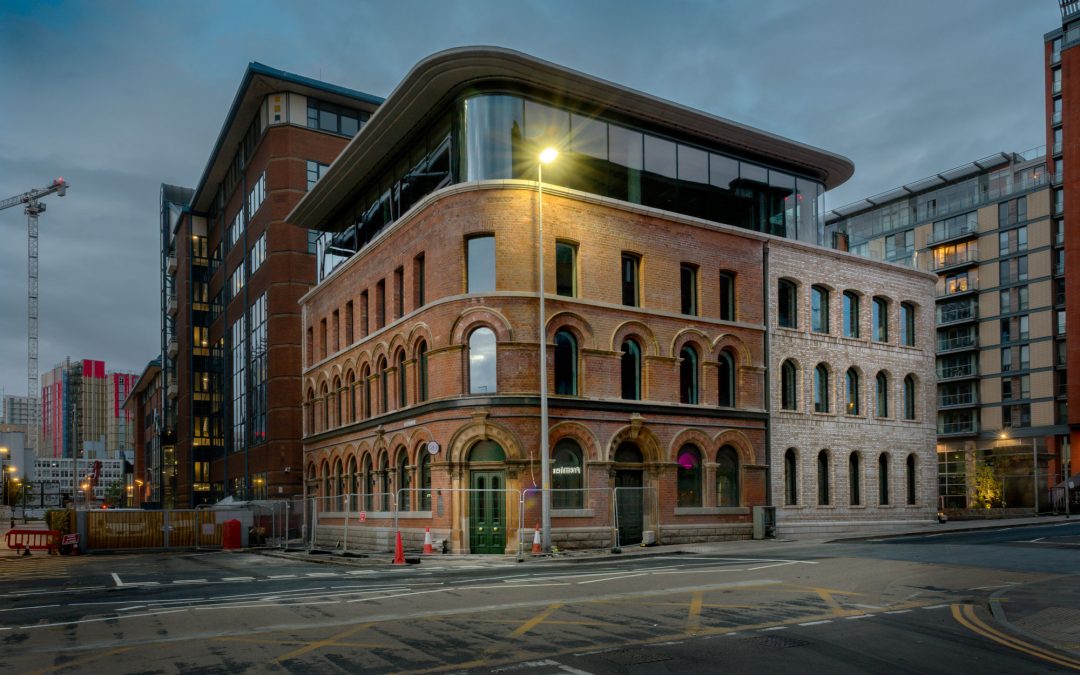 Hannan Associates are delighted to have been part of the team involved in the redevelopment of Riverside House at New Bailey, Salford for our client The English Cities Fund.
Riverside House is a four storey, 11,000 sq ft office building, which includes the retention of two sides of the 19th Century facade from the pre-existing building. The retention of this Victorian Gothic style facade gives Riverside House a real sense of place and history and helps to create a gateway to the New Bailey development as a whole.
As part of our duties we provided MEP Perfomance Duties for the CAT A installations which expanded to include the CAT B fit out for Muse Developments who are taking 2 floors of the building. 
The MEP services strategy was based on chilled beams providing comfort cooling with exposed services throughout the open plan office areas. We carried out thermal modelling and system optioneering to conclude the best scheme to meet the Client requirements.
We were very pleased to work alongside AHMM Architects; RPS Group; DPP; HED; Alan Johnson Partnership and Bardsley Construction on the project.
The building that sat on the site before the new Riverside House is thought to date back to around the mid 1800's when it was the Royal Veteran Tavern located behind the site of the Old Bailey Prison. The Royal Veteran Tavern closed in around 1939 after which it is thought to have been used as a workshop and then unfortunately fell into a state of disrepair.
Riverside House and New Bailey are part of The English Cities Fund regeneration plans for 'Salford Central' a 44 acre, £650 million regeneration scheme set to transform a key part of the city.
Offices, in all forms, have been at the core of our business for over 30 years. Whether it be speculative offices designed to attract potential tenants or highly customised Headquarter office space designed to meet the specific requirements of the occupier. Our engineers understand what our clients and occupiers expect and need from the 21st Century workplace.
If you would like to talk to us about your next project or would just like some general advice please drop us an email.