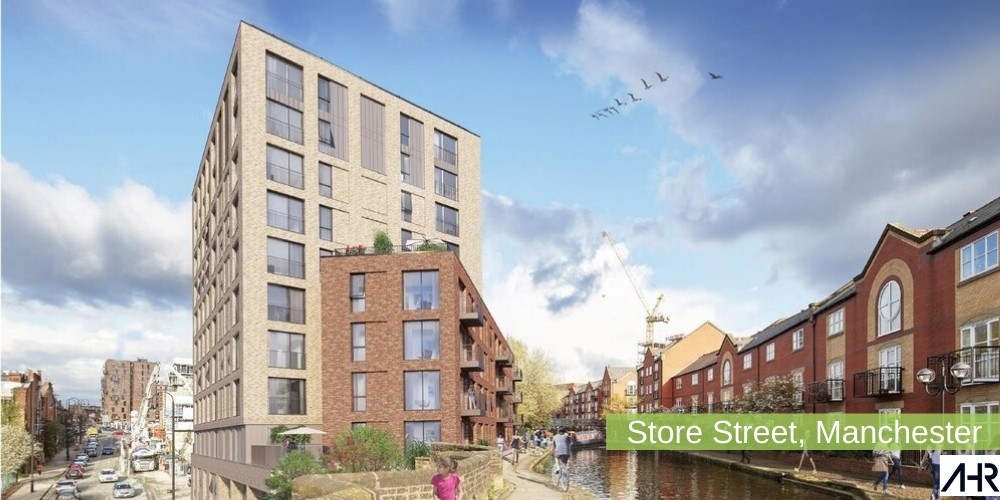 Amidst all the difficulties, it has been great to see positive news emerging from our industry; signs that deals are still being done, clients pushing forward with development plans and the planning system still moving.
We were very pleased to see the Store Street residential scheme submitted for planning in April.
Store Street is an affordable housing scheme situated along the Ashton Canal in the Piccadilly Village area of Manchester. The scheme, being developed by Clarion Housing and H20 Urban, includes 63 new apartments and 3 town houses, which are to be constructed over 11 storeys.
Hannan Associates have been appointed to develop the MEP services design, undertake design stage Part L Compliance checks and to produce an Energy Statement in support of the planning application which has been submitted to Manchester City Council.
The apartments consist of one and two bed types and are contained within a triangular shaped block on the lower levels, with a more traditional block tower construction emanating at six storeys high. Each of the 2-bed town houses is enveloped by the building and are constructed over ground and the first level, with each being accessed directly off Store Street. 
At handover, fifty percent of the car parking spaces will be supplied by electric vehicle charge points, with passive provision for the remaining 50% of spaces. Secure cycle storage has also been included and a proportion of 'green space' incorporated into the scheme design by provision of an accessible terrace area on the sixth level.
It is currently proposed that an 'all-electric' services strategy will be adopted for both the apartments and the town houses in order to help future-proof the homes and contribute towards Manchester's 2038 Net Zero Carbon Target.
Other members of the team include AHR Architects, WSP, Chroma Consulting and Walker Sime.
Hannans have supported our clients with the delivery of residential accommodation to the value of around £400M in recent years. We have played a key role in developments for the For Sale, Private Rental, High End, Social and Retirement markets. To find out more about our Residential experience please click here to see our brochure: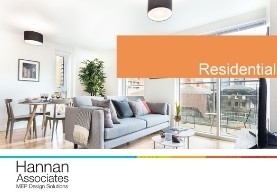 If you would like to talk to us about a future project please get in touch.