Name: Tom Cutt
Role: Mechanical Design Engineer
Years at Hannans: 5
How did you become a building services engineer?
During my time at school and college I worked in a garage assisting with car repairs and services, as I had always wanted to own and maintain my own classic car. Alongside my interest in mechanics and how things work, I found myself performing better in science-based subjects, which meant a degree in Mechanical Engineering was the ideal course.
After completing my degree, I returned to work as a bar supervisor whilst searching for permanent jobs. My employer had previously run an engineering firm and he recommended Hannan's. After making initial contact, I was invited to two interviews and started with Hannan soon after.
What's your favourite thing about your job?
I find it really satisfying to get involved on a project at an early stage and develop the M&E strategies, begin to present these on drawings, then see the various services installed as drawn when the project advances to construction phases.
Out of all the projects you've been involved with have you got a favourite and why?
The majority of my experience stems from the commercial and residential sectors and of these projects one of my favourites has been the Oakfield 4 development, which is currently under construction at Cheadle Royal Business Park.
The building is modest in size, however the design team have had to overcome a number of challenges as a result of some tenant specific requirements. The proposed tenant is a prestigious American multi-national chemical corporation, who will use the building as their new UK headquarters and incorporates research & development facilities.
How has the industry changed since you first started your career?
Even in the relatively short time I've been in the industry; there has been a significant shift towards BIM protocol and Revit, which helps in co-ordinating with other disciplines early on in the design stages of a project.
What do you like to do when you're not working?
In my spare time I try to keep active both in the gym and by running. I also play rugby and (try to play) golf.
If you weren't an engineer, what would you be?
If I wasn't an engineer; I would have liked to join one of the armed forces.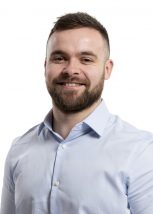 Thomas Cutt
Mechanical Design Engineer